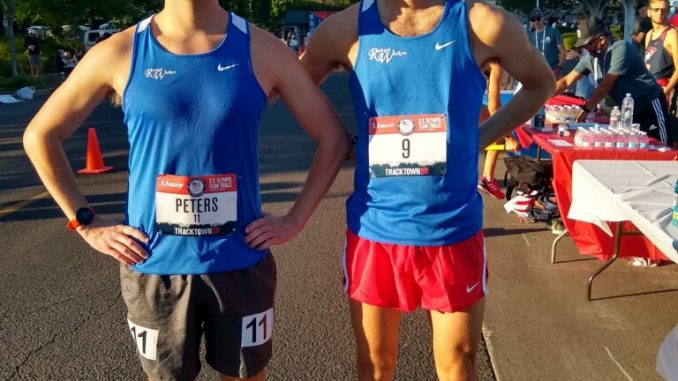 Our top 2 men took to the streets of Springfield, Oregon earlier than originally planned, to avoid the heatwave in the Pacific Northwest in hope of performing with the best and at their best at 20 km.
Heats and humidity changed plans for both Dan & Anthony, as being conservative and patient early was a wiser plan than going hard and hitting an Olympic qualifying time. The potential for a large payday and winning a medal was more important.
Walking conservatively from the start, but with the main pack chasing eventual champion Nick Christie, both men were in good positions immediately. Quickly, Dan took over 2nd place and held that spot throughout, never much more than 1 minute behind the leader.
The weather affected Anthony much more, leading to an ever slowing pace resulting from a few stops to deal with leg cramps, which are common in these race conditions. Whole not the desired result, it was a step forward after a dnf in the Pan Am Cup Trials from a sprained ankle.
Dan placed 2nd and won $8000 for his efforts. Anthony placed 15th.
The NBC Sports stream of the race can be viewed at this link:
Full race results with 1 km lap splits.