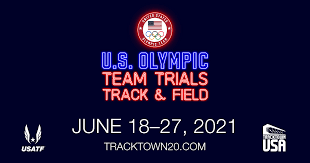 Over the last year, our roster has grown significantly. Thanks in large part to the USATF NC Race Walk support program enacted to provide assistance to emerging and elite athletes in the event.
Two of those athletes are Dan Nehnevaj and Anthony Peters. Both are former NAIA (College) National Champions who now compete as professional athletes. In just over 2 weeks they be racing for a potential spot on the US Olympic Team scheduled to compete in Tokyo in August.
On Saturday June 26th, at 9am PT (12pm ET), they both be racing 20 km against the best in the USA for 3 potential spots on Team USA. While qualifying used to be the first 3 across the line, it's more complicated now, involving a qualifying time and/or 3 race average of points scored in elite level competition.
Track & Field News has them picked to finish 1st & 6th respectively in the Trials, as of their April 15 Formchart.
Realistically, Dan, who has the best time in 2021 & second best time overall in the field, has an outside chance to gain enough points should he win and be fast enough in the process, to be selected.
Anthony will be fighting for one of the coveted Olympic Trials medals that are awarded to the top 6 finishers, as he returns from an ankle injury suffered this spring.
You can root for these 2 top athletes by watching the race on either NBCOlympics.com or the NBC Sports App. Live streaming coverage of the race walk will be there.
Part of our mission to grow athletes & opportunities for them is already in place for the next Olympic Trials as well. Athletes like Stefanie Meacham, Natalie Ehlers and Cher Armstrong are well positioned to make the 2024 & 2028 Trials at either the 20 km or 35 km distances. Additionally, other athletes are being recruited and coached to join them in that quest for excellence.