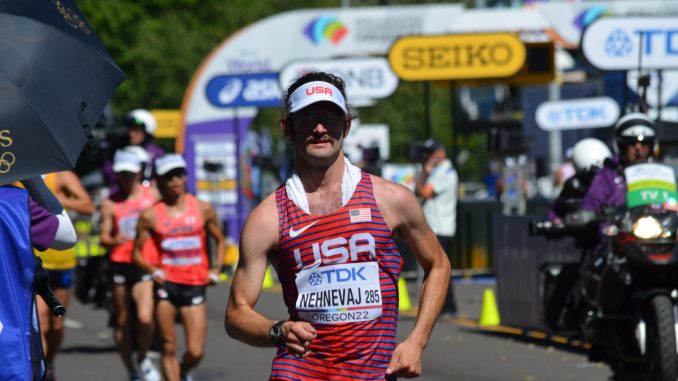 As noted earlier, Dan Nehnevaj finished 43rd in the 20 km Race Walk in the 2022 World Track & Field Championships in Eugene, Oregon. This is top performance by any NC registered Race Walk athlete at any global championship event. Heat was definitely a factor is the slow time (1:43:07), Dan's slowest ever for the distance. Also at issue was a lingering groin injury that has been affecting training all year long.
Here are Dan's splits from the race.

Things clearly went went until 7km, when the wheels essentially fell off and it was a mental effort to get through the race without reinjuring himself.
Dan said the following in regard to the race, and his year. "At the start of his 1956 Olympic Marathon one of the greatest distance athletes, Emil Zatopek, said "Today we die a little." I can say with some certainty that I did indeed die a little today. Well actually a lot. I died a lot. But all in all, here's how the year went. I had some amazing PRs. I got a serious injury. I just snuck into the first World Championships to ever be held in the US. Today was the first race since mid April I that I warmed up for without pain, and finished with no more pain than that of racing my legs off. So while yes it was awfully rough, I'm still very happy to be here and very happy to be healthy again."
Photo Gallery courtesy of Katie Burnett