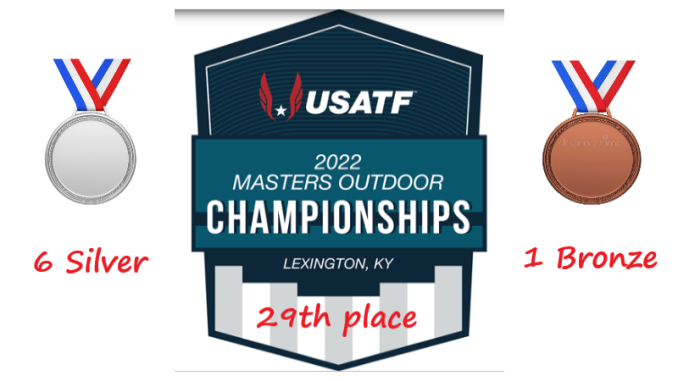 Sunday August 31, 4 of the Raleigh Walkers took to the 1 km loop course at Kroger Field to compete in the 10 km Race Walk. Weather conditions were awful, with a lightning delayed start and torrential rain, but we took home more medals and earned points in the team scoring for the meet.
Matt Holtry managed to get through some early hamstring tightness to take home a silver for 2nd in the M40-44 division with a time of 1:17:27. (Road times are rounded up to the next full second.)
Cher Armstrong (W35-39), battling hip pain that lead to a DQ in the 5000m event, made the smart decision to stop after 2 km, rather than risk making her condition worse.
Andrea Easterday (W40-44) came through in 1:18:12 for a silver medal. Rebecca Garson (W55-59) did the same in 1:12:59.
All of these times are new club records for 10 km on the road. Andrea (39:19) and Matt (39:28) added records for their 5 km splits as well.
We were the top scoring team in the meet that was solely comprised of athletes in the Race Walk events. Combined with the performance of the Open team in their events, this reaffirms our status as the Best Race Walk Team in the USA.
Team Scoring:
| | | | | |
| --- | --- | --- | --- | --- |
| Overall | | Men | | Women |
| 1 Atlanta TC – 977.5 | | 1 Atlanta TC – 476.5 | | 1 Atlanta TC – 501 |
| 2 SoCal TC – 630 | | 2 SoCal TC – 410 | | 2 Potomac Valley TC – 273 |
| 3 Potomac Valley TC – 579 | | 3 Potomac Valley TC – 306 | | 3 Philadelphia Masters – 249 |
| 29 Raleigh Walkers – 40 | | 51 Raleigh Walkers – 12 | | 26 Raleigh Walkers – 28 |